History of Ishikari Bay New Port Area
History of Ishikari Bay New Port Area
Ishikari Bay New Port area is a major development project in Hokkaido which is part of the "3rd Hokkaido Comprehensive Plan" decided by the Cabinet in 1970. The project's goal is the construction of a new port to respond to increasing the production and distribution in Sapporo area, the development of urban industry and the economic exchange with the northern region, and the establishment of production and logistics base around the port. The goverment of Japan, State government of Hokkaido, Otaru City, Ishikari City and Ishikari Kaihatsu Co.,Ltd have been working together to achieve this goal.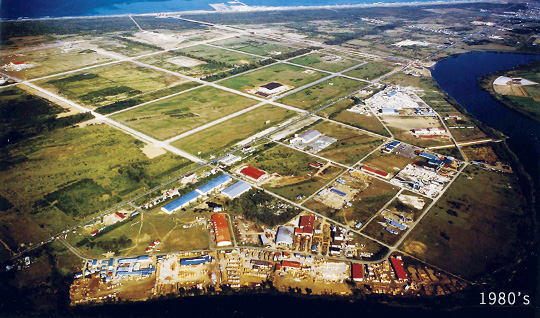 Year

Matter
1871~1910

Fangent,CS Make, Fumiyoshi Okazaki, Isamu Hirai, and others planned to build a new port in Ishikari Bay.
1964

Established Ishikari Development CO., Ltd.
1965

Started construction of Ishikari Industrial Park. (Shinkonan 1-Chome) Started construction of Ishikari Industrial Park. (Shinko Nan 1-Chome)
1970

The '3rd Hokkaido Comprehensive Plan' was approved by the cabinet and the development of the new port area.
1972

Ishikari Development Co.,Ltd changed its organization as the 'semi-public corporation'. Ishikari Bay New Port Regional Development basic plans are decided.
1973

Started port construction.
1978

Started sales of industrial land.
1982

Started operation at Higashi Wharf.
1994

Opened as an international port.
1997

Opened foreign trade container route with Busan, South Korea.
1999

Designated as a plant protection port based on the plant protection act.
2000

Designed as an animal quarantine port based on the plant epidemic prevention act.
2006

West wharf(water depth 14m) started operation.
2012

Hokkaido Gas CO., Ltd's Ishikari LNG Terminal started operation. First LNG carrier entered port.
2015

Started construction of Ishikari Bay Shinko power station - Hokkaido Electric Power Co., Ltd.(February 2019 started commercial operations)