The Ishikari Bay New Port area is an optimal location for suburban data centers.
Since 1996, we have been providing cloud and other Internet infrastructure services based on our own data center, which is currently used by over 430,000 customers. In November 2011, the largest data center in Japan was opened in the Ishikari Bay New Port area. By utilizing Hokkaido's cool outside air for server cooling, we have reduced power consumption by about 40% compared to data centers in central Tokyo, achieving the world's highest level of energy efficiency. The Ishikari Bay Shinko area is just a 30-minute drive from downtown Sapporo and a 50-minute drive from New Chitose Airport making it easily accessible despite Hokkaido's massive area. It is also a safe location with low risk of disasters such as earthquakes and tsunamis. A large amount of power can be yielded from nearby transformer substations and power circuits that are connected by two dedicated lines on the Japan Sea side and the Pacific side providing a stable power and communication environment.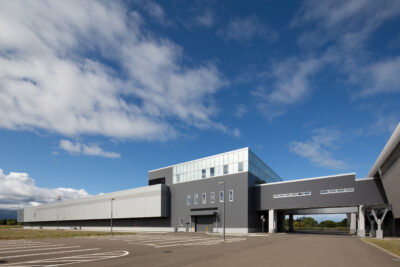 The Ishikari Bay New Port area is the largest logistics center in the Sapporo area.
To introduce us, are you familiar with our renowned "Maru-chan" brand? In 1994, the first commercial refrigeration unit was built in the Ishikari Bay New Port area, and since then the second and the third commercial refrigeration units have been sequentially developed. In 2020, the fourth refrigeration unit are planned to be constructed. In 2012, the instant noodle factory Maru-Chan and the Hokkaido branch located in Nishi-ku, Sapporo were completely relocated to Ishikari Bay New Port area, and now it is a major base of our group, where factories, branches and commercial refrigeration warehouses are concentrated on a 95,000 square meter site.The Ishikari Bay Shinko area is 15 km from the city of Sapporo and can be accessed conveniently in a 30-minute drive. The adjacent Ishikari Bay New Port is also the gateway to the sea in Sapporo and has the largest commercial refrigeration logistics base in Hokkaido. Frozen foods / ice creams and imported foods produced all over the country are gathered in this Ishikari area and then delivered to various parts of Hokkaido.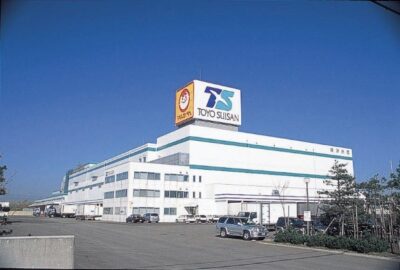 Best location for developing business
YKK AP's Hokkaido factory produces building materials that are highly insulated and airtight, such as resin windows for buildings, resin windows and screens for houses, exteriors, and composite glass. In 1980, we started operations as a manufacturing and supply base in the Hokkaido area in the Ishikari Bay New Port area, which is adjacent to the central city of Sapporo. This is advantageous for the supply chain, and has a port suitable for transporting raw materials. At the Hokkaido Factory, we are working to reduce the environmental impact of transport and delivery by using inventory-less production through demand-driven manufacturing. In addition, we are making efforts to provide a better and convenient environment for customers 11 by directly supplying finished products to them for residential use. The Ishikari Bay New Port area is ideal because of the site, human resources, and the potential to develop a variety of businesses.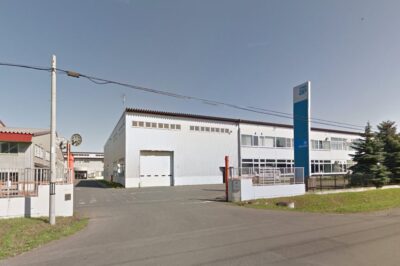 Ishikari Bay New Port area, it is possible to secure human resources not only from the Sapporo area or from Hokkaido but also from all over Japan.
Our company manufactures automatic labor-saving equipment, dedicated machines for the food industry, and contract processing of precision machine parts. To date, we have delivered about 4,000 custom-made facilities to the world. Our strength is that we can provide our customers with "one of a kind machine in the world" at low cost through our in-house production system that covers everything from design to processing, assembly, quality control, installation and support. The reason why we entered the Ishikari Bay New Port area is so we can acquire a vast land at a low price and secure quality workforce from Sapporo. Since the Ishikari Bay New Port area is adjacent to Sapporo City with a population of 1.95 million and it is possible to have employees from not only Sapporo city and other parts of Hokkaido but also from outside of Hokkaido. Our company has employees from various regions of Japan and most employees commute from Sapporo.